"Cut the Number of Bills You Send in Half in 90 Days or You Pay Nothing!...
and Your Patients Will Love It Most of All! "
Includes all the CDs, manuals and Special Bonuses you need to institute five-star service and get paid everything you're worth.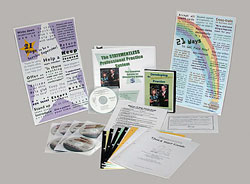 Dear Friend,
If you've always dreamed of a zen-like practice where your staff effortlessly collects your patient's money quickly and easily, in a way that patients love, then you'll LOVE what we've put together for you. Please take a minute from your busy schedule and read this letter ... I promise you'll be glad you did.
My name is Patrick Wahl. My lucky find, Lorraine Hollett eliminated billing from my dental practice, and our material has already done the same for thousands of other practices. There are dozens of simple things you can do right now to skyrocket your production and collections, all while turning your team into customer service magicians. You'll make your practice better, no matter how good you already are, or you don't pay. Sound too good to be true?
Of course it does. But our insightful system is jam-packed with every last secret you need to know. It's an arsenal of practice-building and collection weapons. Plus, if you're not satisfied ... for any reason or for no reason at all ... you'll pay nothing - guaranteed! Please read this entire message right away because this offer is strictly limited ... It's spectacularly easy to get started ... and it costs peanuts ... but only for a limited time ...Read on...

Have you ever presented a case to a patient ... You motivated the patient to go ahead with the treatment ... You released the patient to the desk ... But the patient left the office without scheduling ... simply because the patient didn't like the way the money was discussed?
"For the price of a crown, you can turn your receivables around. This is the System that really got my collections under control. It's the best investment you could ever make."
- Howard Farran, DDS, MBA, MAGD
Imagine how much you'd enjoy practicing dentistry if your staff knew the "magic words" that entice your patients to pay now, before they leave the office. Imagine that patients not only pay you, but leave the office happy with the way they were asked for payment. You enjoy the delicious satisfaction of working not when you think you'll be paid, but when you know you'll be paid. I don't care how good you are. This stuff will make you better.
Here's great news...
After three years of documenting and recording all the "outside the box" techniques developed by Lorraine, and after ten years of consulting in hundreds of other practices, we can make you this promise:
With Our Techniques, You Won't Need to Send Your Patients a Single Bill!
And it won't take your staff hours and hours of "overtime" training to understand and use our strategies. We've made our material user-friendly. Once they hear our techniques, your staff will catch right on to the proven strategies we've developed and compiled.
But you don't need to take my word for it.
Here's exactly what Dr. Rich Madow wrote about our course in the Richards Report Newslettter:
"Absolutely fascinating! Loaded with information and techniques. Pat and Lorraine explain in a step-by-step fashion how even the most disorganized office can, in a matter of months, become 'the Statementless Professional Practice.' If Lorraine could be cloned, the nation's total dental office collectibles would drop to zero - she's that good! Best of all, she does it in a way that gets patients to thank you, not resent you! If you're really serious about not sending statements while boosting production, get their stuff!"

Every phrase we teach stresses the benefits to the patient. You won't lose patients; you'll win them over!
Check out these comments from Dr. Joe Blaes, editor of Dental Economics, naming our System one of his "Pearls for Your Practice:"
"Dr. Pat Wahl and Lorraine Hollett have packed this audio series with vital information that you need to know. This is a complete system for collecting your fees at the time of service. Pat and Lorraine have drawn up a plan for you to follow that is foolproof. They have included scripts for you and your staff, the forms you will need, and answers to all of your objections about why this won't work in your practice."

"Magical Customer Service and the 'Statementless' Professional Practice" is an eye-opening set of eight audio CDs and four easy-to-follow manuals that shows you all the inside-secrets of collecting money while increasing production.
It's About Keeping Patients, Not Losing Them ... And We'll Show You How to Do the Same.
My father "hung out his shingle" more than 50 years ago. My brother is the owner now, and there are two associate dentists. As a new graduate, I assumed that the 500-plus bills we were sending out each month were "normal" - you know, just the way things had to be done. After all, our wonderful patients were used to it!
I suppose I did suspect that there was something we weren't doing right, having to deal with all those past-due collection hassles. But I didn't have a clue about what we should be doing differently, and I certainly had no idea how to go about doing it! Enter new employee Lorraine Hollett. Lorraine had no dental experience. She owned a restaurant and handled collections for a jewelry retailer before managing the dental practice - and she couldn't believe what she found in our office!
She revamped the way we asked for payment, slashing stress as she added to the bottom-line. She ripped our whole silly "financial policy" up one side and down the other, getting rid of all the negative nonsense that offends patients and just doesn't work.
And when I saw our long-time patients consistently paying Lorraine and thanking her profusely for taking their money, I knew that Lorraine was on to a sort of magic. I had to learn her secrets ... and when I did, I knew I had to share them with my colleagues.
I was completely shocked when "bill-stuffing time" rolled around and Lorraine showed me that there were only 7 receivables past-due!
Lorraine is the real thing. She knows how to deal with the same collection problems that your business staff deals with every day, with the same types of patients. And once you use our system to eliminate billing, you'll never go back to the old way again!
Think about this: collecting properly gives you nothing less than an opportunity to impress and to thrill your patients, and to have your patients walk away as raving fans ready to sing your praises to their friends and family... I guarantee it!
You know, it's not just whether you get paid. It's how patients feel about paying you. Our material is NOT about being a drill sergeant or a witch and "getting the money." It's about helping patients - sometimes helping them to avoid unwanted debt. It's about making sure they're happy and referring others every step of the way.
Read here now how dentists across the country are raising their fees, collecting more money more easily than ever. It's no wonder we get so many testimonials with the results-getting strategies you'll learn. That's because we don't do glitz; we don't do rah-rah. We teach nothing but patient-friendly nuts-and-bolts how-to-collect-more-money-now information!
"Our accounts receivable plummeted from $65,000 to $17,000 in four months flat after listening to your CDs. The Office Magic system has completely defused the stress in our practice, 90% of which was related to the management of accounts between us and our patients. Pat and Lorraine, you are the real stars of our practice and mentors for everyone who wants to practice dentistry, not banking."
- Ian E. Shuman, DDS, Glen Burnie, Maryland
"Your system has far exceeded our expectations. It gave us both the direction and the confidence to move toward a statementless office. We are now comfortable discussing financial arrangements with our patients. Patients readily accept and pay for treatment in an unstressful environment now. Your system works and the dividends are immense! Thank you and God bless."
- Bruce L. Cassis, DDS, Cassis Dental Center, Fayetteville, West Virginia
"I sent away for your CDs with my tongue firmly in cheek. I figured my receivables were really in line since they were only 40% of an average month of production. For years I heard practice management experts say that 100% to 200% was acceptable. Within 90 days of our staff listening to your CDs, our receivables fell to around 10 or 15% of a month's production and all of that was current insurance billings. No more statements! Needless to say, your system works, and the CDs have paid for themselves over and over and over again."
- John Stropko, DDS, Scottsdale, Arizona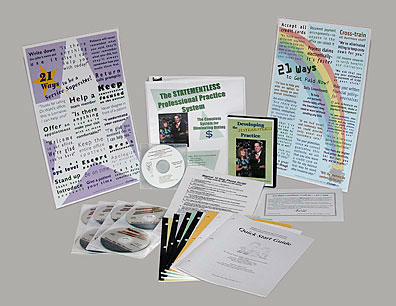 Have you ever noticed that... more often than not... with payment plans, the patient's first check is on time... the second one is a little late... and the third one doesn't come?
And when it comes to the bottom-line, past-due collections is a losing game. In fact, according to industry averages it costs you at least $17 to send a bill once you count all the staff time it takes to send, track, and post it. Collection calls cost even more. Collecting money costs money!
Fact is, most Americans spend every penny they make. That explains why your patients don't mind asking for a bill on their way out your door... but 180 days later, they do mind when you ask where the money is! You know the story: "If I had the money I'd send it. Why are you in my face?"
I believe that when a patient leaves your office owing you money, nothing good has happened. Here's exactly why:
Your staff will send a bill and on average, 84.3% of your patients will pay... and 16.7% won't. Even worse, they'll cancel any future appointments, they won't refer their friends, and they will badmouth you and your staff in order to justify their action.
I may not be the brightest bulb in the lamp, but I do know this:
The Only Way to Keep Patients Happy and Put An End to those Embarrassing Collection Calls is to Eliminate Billing from Your Practice.
Did you ever notice that the hardest bills to collect are the smallest? You know the story - your staff didn't ask for a co-payment, or the insurance company "down-coded" your claim. What's worse, the small bills add up to the most money - enough for a retirement plan or a college fund.
We work with lots of insurance plans -- It's NOT About Going "Insurance-Free"
We'll show you exactly how to do it in your practice right now... it's easy as pie to learn and implement into your practice once you've studied our material thoroughly.
Think what it'll mean to you and to your staff: no more collection calls!
"Count me as a 'happy client.' My accounts receivable have decreased 60% over the past 120 days."
- Wallace B. Brown, DDS, Salt Lake City, Utah
"Buying your material was the single best thing I ever did for my practice! Thanks to your advice, I don't have to delay a patient's treatment because of finances and I no longer send any bills. I am enjoying the practice now more than I ever have. I thank you once again for helping me to achieve my ideal practice. It only took me 20 years!"
- Michael H. Stern, DDS, PhD, Houston, Texas
"We implemented your system on June 1. In May we had sent out 160 statements. In June we sent out 100, in July 70 statements, and this month, August, I expect to send out less than 40. You have freed our staff to provide dental services and take care of our patients instead of hounding insurance companies and chasing slow-payers. And I'm getting the money I earn. The System gave us both the confidence to go statementless (and still have our patients!) along with the techniques and verbal skills to make it happen.I tell every dentist I meet to get this system."
- Clifford O. Feingold, DDS, Asheville, North Carolina
"A little feedback 6 months into our new 'Statementless Practice' system. What a blessing it has been! Some of our staff said, "You will lose all your patients!" Well, I've counted, and we've lost two. Two deadbeats who were always high maintenance and complainers. Our accounts receivable has dropped from $165,000 to $72,000!! Our collection percentage has been over 110% for 5 out of 6 months. Our production and collection is up 110% over last year. Thanks to both of you for your dedication to improving dentistry and how we live our lives in it every day."
- Walker Swaney, DDS, Oxford, Mississippi
You won't just learn what works; you'll see it and hear it in action through actual demonstrations and recorded tapes of real patient conversations. You'll hear Lorraine collecting from some of the most tight-fisted urban peasants you'd ever want to meet!
Eight audio CDs are jam-packed with everything you need to know - Lorraine holds nothing back. You and your staff will learn how to guarantee you get paid in every situation - new patients, emergency patients, routine treatment, even $25,000 treatment plans!
You'll hear actual clips of Lorraine as she makes presentations to patients. Then Lorraine and I go back into the studio and explain exactly what she did and why. This kind of training from a real-world master like her is priceless!
Plus you'll learn techniques developed in other industries to present large investments in a way that patients can't refuse. And you'll have patients thanking you for making this financing available so they can afford the dentistry they need.
Do our techniques work anywhere?
"We are two Italian dentists. We adopted your statementless method with shocking effects. After teaching the method to our staff, the monthly income has raised by some 50% and the past due accounts have been lowered by circa 25% (in only 30 days!) Now our practice is much more 'relaxed' and working is more and more pleasant."
- Drs. Riccardo and Elena Poli, Torino, ITALY
"Despite the fact that our receptionists joked about those American ways not working here, and how they could never talk 'like Lorraine,' and how patients won't pay here, etc., etc. ... they have slowly implemented asking for payments at time of service. And now I can't believe it myself --it is second nature to them! I just asked my receptionist how things are going and she says she doesn't know why, but she feels a lot less stress at the office (she was very stressed as of last June). My accounts receivable are the lowest they've been for years; the statements sent out are just a few a month."
- Edwin Mueller, BSc, DDS, St. Albert Dental Centre, Alberta, CANADA
Are these techniques easy to implement?
"I use these CDs to train my new staff. It is crucial to help them learn not to say the wrong things for the right reasons. This information has helped make our patients feel good about doing top-notch dentistry -knowing I'll get paid!The first appointment scripts are great. I made my staff practice and practice. Now they can't say anything else! Knowing how to answer the most commonly asked questions or objections has my staff's job easier, more productive, and more enjoyable. Your stuff is a must for every office of any size or maturity!"
- Allyn P. Goodrich, DDS, Las Vegas, Nevada
" I have just finished working with my staff as we implement the ideas contained in the 'Statementless Practice System.' We have invested more time and effort in this program than anything we have ever attempted and the results have been very rewarding. This is without a doubt one of the very best investments I have ever made in my dental practice."
- Mark Sullivan, DDS, Edmonton, Alberta, CANADA
"The results of our intial 'staff indoctrination' with the CDs was so effective that we never even used our 20-minute consultation with Lorraine! We are now virtually statementless (only 10-15 statements a month) and have successfully avoided the managed care monster. And we haven't even reviewed the manuals yet!"
- Mick Unsell, DDS, Lees Summit, Missouri
You'll also get complete "scripts" which your staff will love. There's no guesswork with these scripts in hand. They tell your staff exactly what to say, step-by-step, to deliver exceptional service and explain the benefits to the patient of paying today
.
Listen, delivering exceptional service and getting paid for it will have a powerful, positive impact on your practice and your life. All of the information is from the "real world" and is designed for immediate implementation in your office.
Simple, easy, and lucrative.
You'll still be able to do it your way --only better. You won't lose any more sleep over bad debts, suing for payment, and hostile patients. You'll wonder how you ever managed without these techniques.
"Your manuals and CDs form a very straightforward system that has been easy for my personnel to adapt to our collection process. Your ideas are creative and useful. There has been a noticeable stress reduction in the office and a better cash flow. Thanks a MILLION times over! Please let me know of any additions or updates." - Vincent D. Gorman, DDS, Kingston, New York
"This system shows you exactly how to keep what you make and take home what you expect. I just had my best month ever! It's a win-win situation for the doctor and the patient when these collection skills are utilized." - Richard "Nate" Schott, DDS, Murfreesboro, Tennessee
"I've never made a better investment than I did with your materials. I didn't think I needed them at first because I thought our collections were pretty good. But your idea of no billing, a 'statementless' practice, is incredible. You rarely get so much in the world today for so little." - Jerrold Schapiro, DDS, Utica, New York
These dentists are all profiting from our system. They were able to quickly and easily begin using our system from the moment they opened the package. If they can do it, you can, too.
But... if you get our system and, for any reason you find it's just not for you, you'll want to take advantage of our legendary guarantee, the best in the industry. We're so confident that you will be absolutely delirious over this complete learning package, we offer you an unconditional, full-year money-back guarantee:
Get the program and see for yourself. Listen to the CDs and read the manuals. If you don't see how it will add at least $100,000 to your bottom-line every year for the life of your practice, just send it back. Anytime up to a full year after you receive it. With a sure-fire, no-risk guarantee like this, there's no chance you can lose!

Iron-Clad Full-Year "Warranty of Personal Delight"
Give our stuff a try, and if you are not completely satisfied for any reason at all anytime up to 12 months after you receive it, then I insist you return it for a prompt and courteous refund. I personally guarantee it.
Patrick Wahl, DMD, MBA
Practicing dentistry has become too expensive for any of your checks to be "in the mail." It can cost more than $40 just to clean and set-up the operatory. It's never been more important to get paid now by collecting properly - and in a way that keeps your patients referring others to you. In fact, studies show that the chances of collecting your fee are better at the time of service than at any other point during the collection process.
Sure, lots of CE courses and consultants give "lip-service" to time of service collection - usually something like "Sign up for this health-care credit card and all of your problems will be solved." Yeah, right! What's more, according to these so-called "experts" your receptionist needs to be aggressive and demanding in collecting your fee! Sure, anybody can "demand" payment - and drive your patients right out the door! We don't train "drill sergeants" but dedicated patient advocates.
Your staff deserves to be trained in the delicate and emotionally-charged game of Asking for Other People's Money. They need the words that don't offend; words that gain compliance happily. They need a simple system that anyone can understand and follow to get results. And you'll always have our course on hand to bring any new staff members up to speed quickly, in a way they'll understand and enjoy.
Think about this:
With Lorraine's simple system you'll stop hearing those dreadful words, "The check is in the mail..." because your check will be in the bank! We'll even show you how to estimate co-payments the right way! That's right; you need NOT "drop insurance;" you can eliminate billing even as you accept assignment.
Once you get our course in your hands and go through it once, we guarantee you'll want to go through it again and again. Your staff will have to tear it away from you! You'll rivet yourself to it until you understand every single nugget of gold there is to know!
Look, there's no need to reinvent the wheel. Everything is ready for you, completely turn-keyed, and all laid-out for you step-by-step.
Stop Getting Burned!
One key thing I learned from Lorraine is that lending money ruins relationships, while patients who have already paid are happy patients. And in the "Magical Customer Service and the 'Statementless' Professional Practice" System, we have captured Lorraine's every secret.
It will show you all you need to know to make it work in your practice.
"WOW! Your CDs have transformed our practice. My wife and I are listening to them over and over. We were so excited when we first heard them. We couldn't wait to get back to the office to implement your ideas, correct our billing dilemma and improve the service to our patients. Most speakers say that we need systems; you gave us one. Now we're doing exactly what we've always wanted to do. Thank you so much for your help!"
- Gerald C. Green, DMD, Kennett Square, Pennsylvania
"We have been a fee-for-service practice, concerned with offering our patients the highest quality of care. However, the financial arrangements we offered were insufficient. Collecting after the time of service was getting more and more difficult; the longer the time went the harder it was to collect.More and more patients were sent to collections. The system gave different options and tools that are acceptable to patients, so that you can count on payment at time of service. Last month we sent out only 5 statements. Thank you! Thank you! We have no new collection accounts since starting the system one year ago."
- Aurora Polletta-Green, Office Manager for Dr. Green, Kennett Square, Pennsylvania
"Thank you for your very REVOLUTIONARY collection system. It has really sparked me to rethink our whole approach to managing accounts. Some of the concepts are so simple, I have no idea why we never considered instituting them before. As dentists, I feel we have a tendency to get locked into a certain 'accepted' way of doing things, even if that way is flawed or lacks reason. Thank you, thank you, THANK YOU so much for opening my eyes to a new way of doing things."
- R. Randall Allen, DDS, Cincinnati, Ohio
Here are just a few more little-known secrets you'll discover inside this material:
Exactly what to tell patients who insist "That's impossible. My insurance pays 100%."
Exactly what to tell patients who complain "I've never been asked before to pay before the insurance does."
How to put an end to the lame "I forgot my checkbook" excuse - forever!
6 ways to handle the patient with a bill too small to finance, but who can't pay today.
How to get paid even after the patient is turned down by an outside financing agency.
How to eliminate billing without losing the patients who have been with you forever.
We'll show you how you can keep all of those great patients who have been with you so long that they're practically part of your office's plumbing! And you won't have to send them any bills!
5 magic phrases that will keep the patient your fan when you are unable to reach any payment agreement.
How to reach an agreement with the patient who "wants to pay it out" but "doesn't want to take a loan."
How to accept assignment of benefits --to wait for insurance to pay --without sending any bills. All with no risk of not getting paid!
Get out of the insurance game that has your staff spending entire days chasing down small co-payments.
You'll learn all the secrets of providing five-star service and you'll learn the 3 Magic Words That Will Instantly Increase Your Success in Collecting By 67%!
"My husband has been in practice for 25 years. Your material has been a revelation. The best part is the audio. We listen to them over and over, because we all need the daily motivation and to perfect our verbal skills."
- Gail O'Donnell, Office Manager for F. Robert O'Donnell, DDS, Eugene, Oregon
"I am the office manager of my husband's brand new dental practice. The office opened one month ago and I have been able to collect from every patient at the time of treatment. I attribute this to the training I received through your tapes. By the way, this is my first experience in a dental office!!! Your tapes are incredible."
- Amy Dixon, Office Manager for Stephen Dixon, DDS, Nipomo, California
"My staff and I have found your material very helpful. In the Big Apple we have many very assertive people and they can intimidate and smooth talk my receptionist... as good as she is. This month we have gone from 52 bills to 24 with no decrease in patient volume, so progress is at hand. Thanks again for all the ideas and help."
- David M. Gallin, DDS, New York, New York
"Your CDs cut right to the core of the most frustrating part of every dental practice. They make it easy to take back control of our offices from the insurance companies. We're tired of insurance companies telling our patients that we charge too much, tired of managed care companies soliciting us to give away our services to patients who don't value what we do, and tired of the hassle of chasing down long over-due accounts. I highly recommend your program to anyone who desires more profitability, less stress, and appreciative patients. I have paid a lot more for tapes and courses that didn't give me half as much practical information or make such an immediate impact on my practice. I am telling as many people as possible about your tapes."
- Dan McLaughlin, DDS, Kalamazoo, Michigan
"For the first time, my office manager is excited about collecting the money due at the visit. And that's the only time to get the money. The CDs pay for themselves when you implement just one of the ideas they mention. But we're implementing all of them! This stuff makes coming to work fun again."
- Shahab Hashemi, DMD, PhD, Chester, Pennsylvania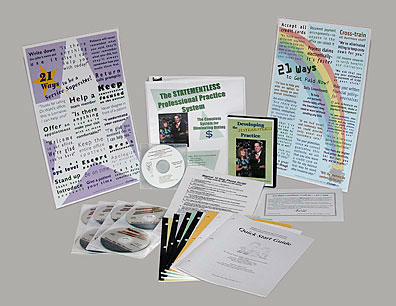 And this is just the tip of the iceberg. Here's what else you'll find out:
How to compete on service, not price.
The one phrase you should never say to a patient, and what to say instead.
6 magic words that any staff member can learn to turn around any situation.
3 magic words to respond to anypatient complaint.
Get paid for what the practice produces and receive thank you after thank you from grateful patients as you eliminate billing entirely.
The question that every patient registration form should ask that will have your patient thinking "Wow! My doctor is famous!"
Telephone scripts that anyone can follow to create positive, enthusiastic patients anxious to meet you and to pay you!
The biggest mistake in collecting that almost every dental practicemakes.
Why you should ban the phrase "up front" from your office entirely!
Why your current outside payment plan isn't working.
What legal issues arise when we don't make payment arrangements in advance of treatment?
Shouldn't health professionals be charitable, and don't most patients prefer to be billed?
The one question that every patient must be asked every time a payment arrangement is made.
These five words increase case acceptance and compliance with the payment agreement and eliminate complaints!
Who should never discuss payment with the patient?
Why you must never offer a discount for the co-payment.
How to get your patients to select yourfavorite payment option.
How to give patients choices instead of demands.
What to say to emergency patients about payment that makes them want to pay you now.
What to say to the divorced parent who says that the other parent is responsible for the child's bill. This one script could save you thousands of dollars!
How dentists actually prevent their staff from collecting properly, and what you can do instead.
How to allow patients to "wait and see what insurance pays" and still get the patient's paymentautomatically.
An Insurance Verification System™ which makes it simple for you to verify coverage for all of your patients in no time flat.
Why you should never work with a secondary insurance plan, and the 3 magic words you must use in your explanation to the patient.
Secret tricks to find out what insurance will cover - even when the company's phone representative is not supposed to tell you.
10 different ways that get you out of "The Insurance Game," even as you accept assignment of benefits!
4 payment options that bullet-proof your financial policy and make patients happy.
Getting the best rate for your credit card billing. (Come on, even the Post Office takes credit cards now - people want their frequent flyer miles!)
How to charge what you are worth and how to be worth what you charge.
... and other secrets of magical customer service!
Now, I want to take just a minute and talk about who would not benefit from these tapes:
Any practice with a completely full schedule of patients thrilled to pay in advance.
Dentists who don't mind paying their staff members to spend their day offending patients with billing and dunning statements.
Staff members who believe that they will get a raise even as the practice sinks.
And, anyone who thinks that by just doing things the same way you always have, it is perfectly reasonable to expect different results.
Because we want every office to benefit from and adopt these ideas and get to know us, we've made the price an unbelievable value when you consider everything you get. Especially when you consider that you have 12 full months to "test-drive" the System.
Please understand... your investment in this material is not the end of our relationship but the beginning. The Office Magic team is here to support your staff in making any changes.
"Magical Customer Service and the 'Statementless' Professional Practice" will put an end to those time-wasting statement-stuffing days your staff hates, along with those negative, morale-killing collection calls. It doesn't matter how successful you are now - this program will help you massively grow your income.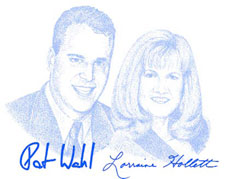 About the Developers of the System
Patrick Wahl and Lorraine Hollett have been called "the country's foremost collections experts" and "the hottest speakers on the lecture circuit." Having owned a restaurant and managed a jewelry retailer before managing a group dental practice, Lorraine was shocked at the casual way dentists handle collections. She revamped Pat's collection policy, increasing the practice's net income in her first year by 47%. With their partner Ginny Hegarty, Pat and Lorraine now dedicate themselves to turning talent into performance through the acclaimed learning resources, seminars, and consulting services of Office Magic. They serve on the faculty of Temple University and are named Leaders in Continuing Education by Dentistry Today year after year. Visit them on the web at www.officemagic.com.
The Office Magic staff is available to answer your questions by phone, fax, or e-mail. In fact, you get a full 20-minute private phone consultation if you order right away. We know the name of the game is results. Period. We care about your success!
Why not invest in your ability to take control of your profits, improve your lifestyle, and actually get paid the money you earned by getting our course in your hands?
What's the cost? Only $377. Which is much too cheap. Really. The free bonuses alone are worth much more than that. Our clients have gone on to add hundreds of thousands of dollars to their bottom-line, and you'll get the same results. The strategies we teach simply work. They're proven. Tested. And worth a fortune once you apply them.
Think about this: Your small investment is a painless drop in the bucket compared to the money you're going to lose every day over the life of your practice without this ground-breaking know-how. I don't know of anywhere else you get this much lucrative, cash-generating practice-building information in one place. Looking at it that way...
You Really Can't Afford Not To Invest In This System!
There's one more point I need to make, and that is - if you want to earn more, you've got to learn more. It's a basic truth in life. If you want a stronger team, you've got to learn more. If you want a better practice or a better marriage, you've got to learn more.
No one gets better at anything by using yesterday's skills or last year's knowledge. If you want to earn more, you've got to learn more.
Order now securely. Don't wait... You and your staff members deserve this know-how. Order now; you'll be glad you did.
In partnership,

Patrick Wahl, DMD, MBA
P.S. Remember, if you order right now, you'll also get 6 killer bonuses worth more than your entire investment in the course! And they're yours to keep even if you choose to return the "Magical Customer Service and the 'Statementless' Professional Practice" System.
P.P.S. Did you know that 87% of all malpractice suits involve patients who owe money? People resent people to whom they owe money; it's human nature.
Here's what you get with your very own copy of our course
You get the entire album of eight audio CDs. I go into the studio to pepper Lorraine with the most difficult questions I can drum up! We even play tapes of actual recorded real patient conversations. Wait till your staff hears these ideas in action! We start from the beginning and go step-by-step, so that you'll know exactly what to do and when to do it in your office. (These tapes alone are worth many times the entire price!)
The "Quick Start Guide" that shows you exactly how to use the tapes and manuals to eliminate billing and get going today! It's all laid out for you in precise, step-by-step detail.
"122 Secrets of Magical Customer Service," an enlightening manual with a truckload of advice, divided into bite-size chunks ready to implement! This one shows you how easy it is to consistently deliver five-star service, and to get your staff members to go the extra-mile.
"150 Secrets of Eliminating Billing," the book that "gives it all away." Extremely organized and compellingly simple, we hold nothing back as we document the exact words to tell patients. Start collecting the fees you're worth!
"The Tool Kit for the Statementless Practice." This book is exactly what it it titled: a veritable tool kit of ready-to-copy forms and ready-to-implement ideas that we're sure you and your staff will refer to daily. All the forms you'll need to go statementless today, and step-by-step instructions to make it happen now.

You get all this for the very small investment of $377 ... if you order now.

WEB SPECIAL!!!

For a limited time, we'll also give you 7 Killer Bonuses worth more than your entire investment in the course!

FREE BONUS #1: "104 SECRETS OF COLLECTING PAST-DUE ACCOUNTS"

We don't waste one minute anywhere in our course talking about past-due accounts... because past-due is too late! But we put together this workbook to show you exactly how you can get rid of the receivables you already have once and for all! That way, you can concentrate on doing things right from this day forward. This is not the same generic fluff you're used to hearing about collecting overdue accounts; these are real-world, powerhouse techniques that work! This book is easily a $177 valuethat you'd recoup the first time you use just one of our suggestions to melt away patient resistance and get paid now... and it's yours FREE!

FREE BONUS #2: A LAMINATED COPY OF OUR "TEN-STEP MAGICAL PHONE SCRIPT."

When you post this simple script by your phone, you'll rest assured that your staff is helping your patients receive treatment without your having to send any bills! Your staff will love to have the "magic words" posted right at their desk. (a $48 value, yours FREE!)

FREE BONUS #3: "39 MYTHS OF COLLECTING THAT ARE KILLING DENTAL PRACTICES."

Avoid the biggest collection mistakes that 95% of all dentists insist on making. This Special Report takes no prisoners as it reveals all 39 practice killers... 39 myths that are actually being taughtevery day on the lecture circuit ... that create needless collection problems and unhappy patients. This report will show you why everything you've ever been taught about collecting is wrong! But we don't just identify the problems; we give specific, step-by-step advice about exactlywhat you and your staff should do instead. (a $149 value, yours FREE!)

FREE BONUS #4: "ENDLESS REFERRALS: HOW TO GET YOUR PATIENTS TO REFER THEIR FRIENDS AND FAMILY TO YOUR HIGH-FEE PRACTICE"

Most practices that we visit as consultants think that they're already doing all the "internal marketing" they can to get their patients to refer others. All we can say is, "Baloney!" This Special Report will supercharge your patient referrals from a trickle to a flood, bringing referred patients in like an almighty tidal wave! The best part is... it's as easy as selling lemonade from a stand! (a $99 value, yours FREE!)

FREE BONUS #5: 20-MINUTE "WARP SPEED" PHONE CONSULTATION.

You get a signed Certificate good for you or your staff member to spend 20-minutes discussing the concerns unique to your practice. We want to make sure that you are successful with our techniques, so we're happy to set this time aside. Imagine discussing your problem, uninterrupted and one-on-one with a top dental consultant! Some Office Managers say that this consult is the most valuable part of our System. There's really no way you can put a value on the new confidence they learn. It's almost like having"management insurance" to assist you and your staff! (a $275 value, yours FREE!)

FREE BONUS #6: "AMAZING SECRETS OF SUPER-SUCCESSFUL PRACTICES"

This famous Special Report shows you how you can grow your income exponentiallyby working smarter, not harder. You'll learn how to hook new patients into your office as easy as hooking flounder during mating season! You'll learn an advanced phone technique for superstar receptionists, and clinical tips too, like how to make denture fabrication actually enjoyable... and little-know dental products that every five-star practice must have. You'll even learn how to convert 95% of price shoppers and make them eager to pay your higher fee! With dozens of other tips like these, this report would be a steal at its normal $149 price - yours FREE!

FREE BONUS #7: AUDIO CD INTERVIEW OF PAT AND LORRAINE

Dr. Rich Madow picks the brains of Pat and Lorraine, drawing out tip after tip --a veritable string of pearls. It's an overview full of specifics that will get you and your team up and running right away with simple stuff that works now. Another $47 value, and you get it ... FREE!

FREE BONUS #8: DVD OF A LIVE SEMINAR, "Developing the Statementless Practice,"

The video is our best stuff compressed to one hour and 15 minutes. It will give you immediate insight on how you can improve your systems starting with your very next patient. Role-plays demonstrate important concepts, and includes "Words You Must Ban from Your Practice Immediately." A $199 value -- yours FREE!

FREE BONUS #9: TWO FULL-COLOR, LAMINATED POSTERS, "21 Ways to Get Paid Now!" and "21 Ways to Be a Service Superstar!"

Hang up the posters in your back office where the staff hangs out, so that they will be reminded daily of the simplest, most important things to do every day. Here's what Dr. Woody Oakes wrote said about the two posters in a Profitable Dentist newsletter review: "A daily reminder of exactly what to do and say for better results with your patients ... These colorful, eye-catching laminated posters instill powerful words, phrases, and techniques any team member can learn at a glance. They get everyone involved in the process of providing exceptional service and maintaining a 100% collection rate."

You get it all for just $377! So easy to implement, you'll start getting the benefits instantly. All 9 Free Bonuses are yours to keep as our gift, even in the unlikely event you choose to return the "Magical Customer Service and the 'Statementless' Professional Practice" System. We're not above ethically bribing you just to get you to give us a try. That way you can say you were able to profit from our System, no matter what happens! Order now!

DOWNLOAD EVERYTHING RIGHT THIS INSTANT! YOU'LL GET ALL THE PDF FILES - EVEN THE POSTERS! AND WE WILL STILL SHIP YOU HARD COPIES OF EVERYTHING ... NO EXTRA CHARGE! ORDER NOW!

"For the price of a crown, you can turn your receivables around. This is the System that really got my collections under control. It's the best investment you could ever make."
Howard Farran, DDS, MBA, MAGD

"I am the office manager of my husband's brand new dental practice. The office opened one month ago and I have been able to collect from every patient at the time of treatment. I attribute this to the training I received through your tapes. By the way, this is my first experience in a dental office!!! Your tapes are incredible."
Amy Dixon, Office Manager for Stephen Dixon, DDS, Nipomo, CA