"Office Manager in a Box" Keeps Your Office Running Like a Swiss Watch!
Hot New Book of Scripts Tells What to Say and How to Say It in the Dental Practice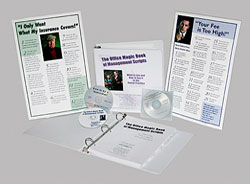 Have you ever wished you had 'the ultimate training manual' to instantly help your staff respond professionally to your patients? Have you ever worried that some patient questions are not being properly answered? Have you ever wished you had just the right words to train your staff to ease your patients' concerns? What if you had a dental practice management consultant sitting right there beside your new staff member to guide them in what to say and how to say it? Would it make a difference?
You don't have to imagine any longer. Now anybody can develop that priceless 'way with words!' We've got an inkling that our new learning resource is just what you've been looking for. This resource provides you and your staff with just the right words to create the power, personality, and style that gets patients to respond the way you want them to in every situation. Our scripts capture your philosophy of excellence, and you and your staff will never fear facing a challenging patient again. In fact, we guarantee it.
Woody Allen said that "80% of success is showing up." No question, showing up is the first rule of success in the dental office! The second rule is you have to use the right words with your patients. It's the words you use and how you use them that gets patients to do what you want the way you want when you want. At Office Magic, we train you to use the correct words to achieve increased profitability, more cash flow, and a lower overhead.
Training is painful. It takes time and effort. Our new course is like having "Instant Training" available. We did the work for you! We describe exactly how to use the scripts and just what to do with them inside the book and in the audio CD that comes with the book. The best part is you really don't have to do anything once you give this material to your key staff members! That's why dentists love our staff training system.
Perhaps you have an office manager who already has exceptional communication skills. What will you do when this key staff member moves away? Do you have the appropriate answers to common patient questions written out? Do you have each answer laid-out beautifully on one-page for maximum retention?
Now, you will, and your staff will thank you and thank you!
This book gives you bullet-proof answers to tough questions like these:
"Why do I need to come in for cleanings so often?" The answer to this question can make or break your hygiene schedule.
"Do you accept my insurance?" The only proper answer to the question most every caller asks your staff -- whether you accept assignment of benefits or not! Stop turning away all of those callers who really can be your patients!
"Why are your fees so high?" Patients want your empathy, but not your sympathy!
"I'm in pain. How can you talk to me about money?" Imagine never being at a loss for words again!
"My insurance has changed. Can you recommend a dentist on my company's list?" You don't have to lose these patients!
You don't come across these conversational skills by chance or even through experience. You can't master these skills by going to a one-day seminar. You need a resource that you can turn to every day.
Attendees of Office Magic seminars, doctors and teams alike, learn effective patient-friendly methods to build the practice with happier patients. We are well-known for making every presentation high in content, humor, and motivation.
All attendees get instantly useable information as Pat lays bare the most powerful secrets of increased case acceptance, eliminating billing, and making work fun. His attention-getting strategies keep your group on the edge of their seats as they enjoy memorable and engaging demonstrations and clips.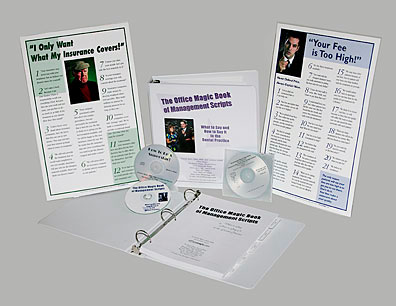 Any professional will tell you that technique must be memorized before it can be abandoned. You see, your mind plays tricks on you. Things that go unrecorded get lost. If it's not written down, it doesn't mean anything.
Have you ever gotten up to go into a room and forget what you went in there for?
Have you ever met somebody and ten seconds later, you can't remember his name?
Do you have somebody's phone number written on a note sitting right now on your desk but you don't know who's number it is?
Have you ever set your alarm clock and gotten out of bed to check it because you couldn't remember whether you set it or not?

I couldn't imagine what it would be like trying to do dentistry if I had never gone to dental school. It would be like a pro football player trying to make the team without a play book!

And that's exactly how your staff member feels when she's "thrown into the fire" of a busy dental practice. "Just do it" may be a good slogan for a sneaker company, but it doesn't cut it as a management philosophy in today's dental practice.

Give them the tools they need

Most of the staff members we work with in our consulting programs want to do well. Frankly, they want not just to survive, but to excel. What they need are the tools of achievement. They need access to professional training; in short, they need to learn the magic words and how to use them. This book gives simple, clear instructions to master all of the most common tasks and handle the most common situations in your dental practice. Instructions like

How to make sure that prospective new patients who call with questions about the dentist get the right answer and become your patients.
How to transition from scheduling an appointment to discussing fees and payment. This is the answer to the question we're asked most frequently by business staff members.
How to make sure that callers who diagnose treatment on their own are scheduled properly and do not wasted valuable production time.
How to keep the hygiene schedule full.
How to distinguish non-emergencies from true emergencies. Your staff desperately needs this training!
Properly asking for payment so patients thank you, not resent you. Paying patients are not enough. Make sure they're raving fans!
Exactly what to say to the new patient who calls with an emergency on Friday at 4:59 p.m.
What to say to the patient who asks to speak to the doctor unnecessarily. Make sure that you're not called to the phone and that you always look like the good guy or gal.
Ending a phone call. Never just say goodbye. Leave a five-star, lasting impression.
Greeting patients in the office. What to say to make each one feel like the most important person in the world.
What to say to late patients. Stop the vicious cycle and take control of your schedule.
Calm the terrified patient -- even before the patient is brought back to the operatory.
How non-business staff members can answer questions about fees.
Doctors -- how to leave the room so your staff can arrange payment.
Staff -- how to make new patients comfortable when arranging payment for a treatment plan that can sound overwhelming.
What to say when a patient will not agree to any payment option.
Getting patients to pre-appoint a recare visit when they say they don't know their schedule. Building the Hotel California practice -- patients can check out anytime they like, but they can never leave!
Properly confirming appointments -- most staff members just don't know how to do this right.
What to say so patients don't cancel their appointments.
What to say to patients who try to cancel an appointment so your schedule stays full.
If you must send a pre-determination -- what to do so the patient schedules.
How to explain credit card pre-authorization and get patients to go for it. Eliminate billing for small balances.
A fabulous answering machine message. Let them know they called the best!
How to explain the value of a complete exam to patients who "just want a cleaning."
How to sell the right treatment plan to patients who'd "rather just have them pulled."
How to sell dentistry when it's not covered by insurance. Powerful words that keep patient's eyeballs glued on YOU and your message.

Look up above. Do any of these benefits sound good to you? These are just a few of the countless benefits you get I think you'd agree, there are more here than you can shake a stick at! A whopping three years in the making, this book captures each of Lorraine's "magic words." Words that soothe and make right words that energize and delight.

We've ironed out all the wrinkles and perfected our course. These answers are the result of years of study and collaboration with the best minds in the business. The most successful practices in the country are using these scripts, and no one in your office will need to think "off-the-cuff" anymore.

These scripts are proven. They're short. They're easy to remember. Most patients aren't looking for a long story or a list of excuses. And we knew we had to keep the book short as well if we expected it to really be used. We keep everything easy to learn in bite-sized pieces. No staff member will feel overwhelmed. They'll know your philosophy, and that you expect nothing less.

You'll learn how to phrase everything in terms of the benefit to the patient, and to eliminate useless fluff and chatter. We specifically show you how to chop your sentences down with a big-old axe so that every word packs a punch. The exact words to say, not vague, generic fluff like "try harder" or "just do it."

It's no wonder we get so many testimonials with the results-getting strategies you'll learn. Take a look at what a few of our clients say about our sure-fire program:

What Others Say...

"Thanks for all of your work! I've not seen any better content, anywhere. What a great service to our entire profession."
-- Jeffrey Cummings, DMD, Cosmetic & Restorative Dentistry, Waltham, MA

"The best training tools I have ever found. Much more thorough than previous things I've seen from various consultants. More importantly, it's comfortable for even timid staff members. It has been in search of me for years! If only I had this stuff years ago. Pat and Lorraine, what took you so long?"
-- Kevin Ryan, DDS, Family Dentistry, Alexandria, VA

"You have saved me (and I'm sure hundreds of others) lots of time and effort. I'm so glad I don't have to write this book. In fact, I'm not sure anyone could have created a better product. I'll be recommending this book to all of my clients."
-- Vicki McManus, RDH, Fortune Practice Management

"This is the best investment dentists could make for themselves, their practice, and life in general. It really brings the office together in a way that reduces unnecessary stress. It has helped us to help patients get quality dentistry and to value it. The trust our patients show in us has increased. The scripts have helped us organize our messages to patients, and to focus our efforts on a more productive and less stressful working environment."
-- Elisa Mello, DDS, and Ramin Tabib, DDS, Family Dentistry, New York, NY

"Whether you are new in practice or have 20 years of experience like this office, the 'Office Manager in a Box' is the one resource needed to take your office to the next level. Not only will your staff respond to the need to be professional, patients appreciate the immediate response to their questions and comments. The scripts make the patients perceive you are genuinely concerned about them first! The 'Office Manager in a Box' is such a great product that I would back your money-back guarantee with my own money!"
-- Bruce Cassis, DDS, Cassis Dental Center, Fayetteville, WV

"Whether your staff is new or just motivated to improve, get the 'Office Manager in a Box.' You'll develop good, consistent answers to difficult questions. The scripts are short, non-confrontational, and easy to memorize. The audio was as funny as it is motivating. Our three receptionists now present a more coordinated and harmonious message to our patients, and they do it consistently."
-- Edwin Mueller, DDS, St. Albert Dental Ctr., St. Albert, Alberta, Canada

"I thought our staff would resist scripting, but once they saw the book, they all fought over who got to take it home that night! You've taken all the work out of having to think of what to say, and you've helped the whole office move away from 'insurance-dependent thinking towards 'what's best for the patient.' There's not an office on the planet that shouldn't have this system."
-- Joe Katsarsky, DMD, Endodontist, and Rich Konys, Jr., DMD, Oral Surgeon, EastSide Dental Specialists, Fayetteville, NY

"You've done a wonderful job of making effective communications easy. This is exactly what dentists and their staff need. Your scripts are precise, informative, yet easy to understand and extremely helpful. We hired a new employee on Monday and she is already saying your words. You've freed us up from having to spend lots of time training."
-- Deborah Dopson-Hartley, RDH, Tampa, FL

"These are the exact verbal skills that every office needs. Thanks Pat and Lorraine for simplifying one of the most difficult aspects of team building. You provide the answers to, 'What do I say when 'Once your team practices and role-plays these scripts, you'll see your bottom-line soar!"
-- Mike Maroon, DMD, genR8Tnext Seminars, Berlin, CT

"I've worked in the dental field for over 35 years and I'm really amazed at the positive impact that scripting can have. All the positive words in the scripts have been a great help to me, and they allow us to make any changes we want in our practice. We're starting on the journey of becoming insurance-free. I don't think I could have attempted it without these verbal skills. The best part has been that Lorraine has truly been there for me whenever I've had a question or needed any help. When you say you support your products you really mean it. Thanks Lorraine and Pat!"
-- Ms. Corine Leech, Office Manager for Dr. Thomas Hedge, West Chester, OH

Ken Blanchard's landmark bestseller, The One Minute Manager, urges us to express important ideas on no more than one page so that anyone can read them in one minute. I couldn't agree more! We've laid out the scripts and their discussion so anyone can flip to the answer they want and instantly absorb it. Mylar-reinforced paper means this book will even withstand what's sure to be heavy-duty use and abuse over the years.

Iron-Clad Full-Year Money Back Guarantee
Give the "Office Manager in a Box" a try, and if you are not completely satisfied for any reason at all anytime up to 12 months after you receive it, then I insist you return it for a prompt and courteous refund. I personally guarantee it.

Web Special FREE Bonuses

When was the last time you felt in control of your office? This resource reveals hundreds of easy-to-use secrets that simplify your practice, allow you to get more done in less time, reduce stress around the office, and help you find peace of mind. These scripts are fast. They're simple. They work. And, there's more if you order now.

FREE BONUS #1: "HOW TO BE A SUPERSTAR" AUDIO CD SET

Words can no more change people than reading a recipe can make a meal. I could give you all the ingredients of gumbo, but that will not make gumbo. You have to take the ingredients and move with them. There's a way and an order in which you use them. That's what these audio CDs are all about. They bring the scripts to life, and move listeners to action. These CDs will supercharge your staff so they're motivated and enthusiastic about the opportunity that each day offers. A $99 value, yours FREE!

FREE BONUS #2: ENTIRE BOOK OF SCRIPTS ON COMPUTER DISK

You get the entire Book of Scripts on computer CD, allowing you to customize scripts as you desire. It's Mac and PC compatible! The practical uses of these scripts are almost endless. You can custom-tailor just about everything you say to patients every day. A $99 value, yours FREE!

FREE BONUS #3: "YOUR FEE IS TOO HIGH!" FULL-COLOR POSTER

A beautiful laminated 11" x 17" full-color poster for your back-office that offers 21 different proven responses to bring around the patient who complains, "Your fee is too high!" Every dentist and team member is sure to find one answer they're comfortable repeating! A $45 value, yours FREE!

FREE BONUS #4: "I ONLY WANT WHAT MY INSURANCE COVERS!" FULL-COLOR POSTER

A beautiful laminated 11" x 17" full-color poster for your back-office that offers 12 different proven responses to turn around the patient who states, "I only want what my insurance covers!" Every dentist and team member is sure to find one answer they're comfortable repeating! Dr. Rich Madow writes in his Richards Report Newsletter, "Put these posters in an area where the staff hangs out and watch the magic happen." These posters demonstrate to your staff and remind them every day how to instill value rather than apologize for your fees. A $45 value, yours FREE!

About the Developers of the Scripts
Patrick Wahl and Lorraine Hollett help successful practices become more successful through their learning resources, seminars, and consulting services. The secret to their success is Lorraine's unique and magical way with words. They speak regularly at major dental meetings around the country to consistent rave reviews. Their articles have appeared in Dentistry Today, Dental Economics, Dental Practice & Finance, the Profitable Dentist, Building the Power Practice, the Dental Leader, the Richards Report and many others.
Manage your practice with the 'Office Manager in a Box.'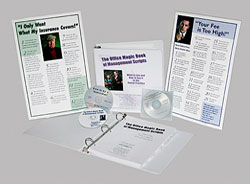 The Office Magic Book of Management Scripts is much more than just a book. Each script is followed by a discussion section. We explain why the words chosen are so important and which words must be avoided. Unfortunately, we hear these "other" words regularly when we consult in practices across the country! But you won't need to hear them anymore once you get your hands on your own copy of 'The Office Manager in a Box.' Once you get our course in your hands, you need to rivet yourself to it until you understand every single nugget of gold there is to know!
Lorraine and I help successful practices like yours become even more successful. Because we're committed to your success, all of our products come with support. You or your staff can call us anytime for our assistance with any challenges you come across. Our relationship doesn't end with your purchase, it begins. The name of the game is results, and we care about your success.
You'll get heaps of enjoyment out of your new "Million Dollar Verbal Skills." You'll be more confident and sell more dentistry. And because we want you to get to know us, we've set the price at the very affordable level of just $277 (plus $10 shipping and handling). This material will pay for itself before you've had time to finish going through it all! With that in mind, you can't afford not to order today! We've helped thousands of practices achieve new levels of success, and it's a safe bet we can help yours, too.
In partnership,

Patrick Wahl, DMD, MBA
P.S. Order now to get all 4 incredible bonuses that together are worth more than your entire purchase price! Not satisfied with the book? Send it back for a prompt and courteous refund, and keep all the bonuses just for giving us a try! With a risk-free guarantee like that, you can't lose!