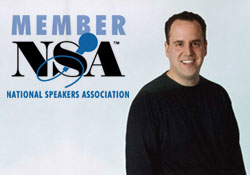 Get ready for a blast of interactive learning and laughing.
Looking for a proven speaker with a fresh message? Dr. Wahl reveals the results of his lifelong study of what it takes to dynamite your status quo and achieve break-through success. Participants leave his events twice as good at what they do, for twice the results.
Pat's demonstrations and clips from your favorite Hollywood movies keep the audience on the edge of their seats, earning his presentations consistently rave reviews from both dentists and staff members alike.
Pat's not like any other speaker. Read on and we'll prove it. He doesn't shut off the lights and click slides all day... 25-year dental veteran Dr. Daniel Sadler of East Lansing, Michigan, wrote to us:
"Wow! My Office Manager and I were dreading 'another seminar.' Truthfully, we had planned on spending the morning and leaving at lunch. When lunchtime came, we were actually afraid to get up and risk losing our seats for the afternoon! We both agreed: It was the best and most useful seminar we've ever attended."
Attendees of Office Magic seminars, doctors and teams alike, learn effective patient-friendly methods to build the practice with happier patients. We are well-known for making every presentation high in content, humor, and motivation.
All attendees get instantly useable information as Pat lays bare the most powerful secrets of increased case acceptance, eliminating billing, and making work fun. His attention-getting strategies keep your group on the edge of their seats as they enjoy memorable and engaging demonstrations and clips.
We're constantly custom-tailoring new state-of-the-art presentations for our clients. Recent topics include
* Secrets of Practice Greatness * The New Rules of Practice Management * Practice Mastery Academy * Colossal Case Acceptance * The Statementless Practice * Magical Customer Service * Million Dollar Verbal Skills * Leadership in One Lesson
Click here for Pat's most current and popular Synopsis.
Your group members are eager to hear from Dr. Wahl. His articles regularly appear in virtually all of the management journals. Pat is a popular, repeat speaker at major meetings around the country like the Yankee Dental Congress and the Greater New York Dental Meeting, and all of the "Super Seminars" like the Richards Report and the Discus Extravaganza.
Flat-rate honorarium (for domestic meetings) means you aren't billed for any travel expenses and you have no paperwork hassle.

Dr. Wahl pays all of his own expenses including air, hotel, and meals. Pat even carries most of his own audiovisual equipment. It couldn't be easier.
Call Lorraine today at (302) 229-9520 or e-mail us at info@officemagic.com
We'd be thrilled to work together with you to ensure record attendance. Let us work hard to make your next meeting your most successful ever.
In partnership,


It's not just a seminar; it's an experience!
Call (302) 229-9520 now!