Practice Explosion System "The Whole Enchilada" Web Special!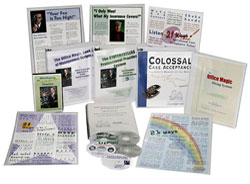 All the CDs, Scripts, Reports and Systems You Need to Increase Profits With Happier Patients...
Without Billing and Without Stress.
You'll Do it the Right Way!
Relax and Enjoy the Benefits of Real Systems, Real Life Verbal Skills, and Real World Results. Instant Training. Instant Revenue. Instant Success.
You Get the Statementless System, The Office Manager in a Box, Colossal Case Acceptance, the Leadership and Accountability System and much more! Includes All 5 Posters, 20 Fascinating CDs, Video, and Priceless Notebooks and Special Reports.
"I can't thank you enough for the valuable resource that KEEPS ON GIVING -- the Practice Explosion System from Office Magic!! All materials were very well organized and EXTREMELY EASY to implement. Our production has dramatically increased, and the feeling of well being from practice success is almost euphoric. My wife sees the satisfaction and well, things have virtually exploded in our personal life as well. I thank you again for all of your help in achieving this. Keep up the awesome work!!"
-- Timothy J. Kitzmiller, DDS, Loveland, Ohio
"I would back your money-back guarantee with my own money!"
-- Bruce Cassis, DDS, Fayetteville, West Virginia
"Pat and Lorraine hold your hand and take you step-by-step through their wonderful program of achieving zero accounts receivable."
-- Dr. Joe Blaes, "Pearls for Your Practice," Dental Economics
"It has all the key words, phrases, and sentences you and your staff need to boost production effortlessly!"
-- Dr. Woody Oakes, The Profitable Dentist Newsletter
"What a blessing these tapes have been! Our collection percentage has been over 100% for 5 out of 6 months. Our production and collection is up over 110% over last year."
-- Walker Swaney, DDS, Oxford, Mississippi
"Our practice is having more fun and play, while achieving significant improvements in productivity, employee engagement, patient satisfaction and profit."
-- Lawrence Kaplan, DDS, Totowa, New Jersey
"We adopted your methods one month ago with shocking effects. After teaching the method to our staff, the monthly income is raised by some 50% and the past due accounts have been lowered by about 25% -- in only 30 days! Now our practice is much more relaxed, and working is more and more pleasant."
-- Drs. Elena and Riccardo Poli, Torino, ITALY
"I got your Office Magic 'Whole Enchilada' Practice Explosion System in January... I used to run on a 1:1 ratio of production to 30 days and felt very proud about it already. Our practice is doing very well and I still love my work after 15 years... We were able to eliminate billing in about a week. Then something scary happened. I noticed that my 90-days-plus accounts percentage shot way up -- simply because there were no new accounts being added! I can't believe how incredibly easy it is to run this system when all the other parameters you cover like communication, service, and patient trust are in place. Your insights have pushed me over the edge into dental paradise."
-- Dr. Martin Wucher, Okahandja, NAMIBIA
Don't know where Namibia is? We didn't, either. Turns out it's 1000 kilometers north of Cape Town. One thing is certain: If these ideas work in Namibia, you can be sure they'll work in your town!!!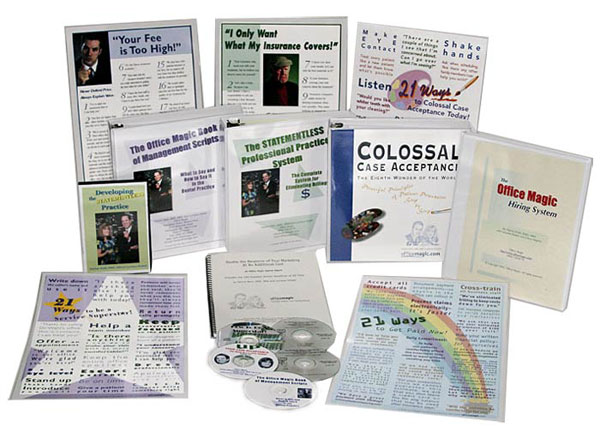 You Get it ALL ..... Because You Deserve It!
A $1,650 Value for just $1,127! Save Over $500!!
Includes: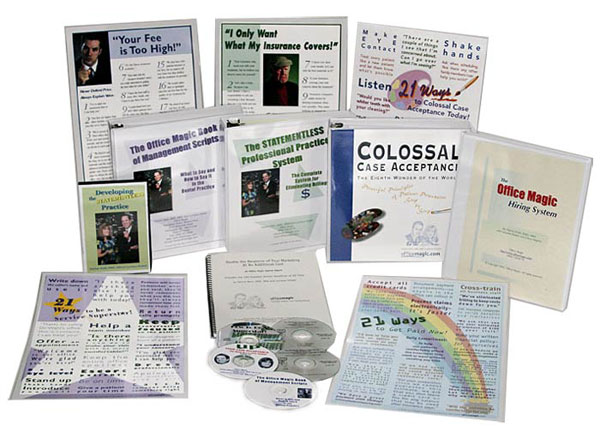 Note: The Practice Explosion System includes samples of the Brochures. Brochures (one helps explain your payment options, the other helps you drop the PPO without dropping the patient) must be ordered separately.
All Office Magic products are backed by our no-hassle, full-year, money-back guarantee, as well as our legendary support. We care about your success.
DOWNLOAD EVERYTHING RIGHT THIS INSTANT! YOU'LL GET ALL THE PDF FILES - EVEN THE POSTERS! AND WE WILL STILL SHIP YOU HARD COPIES OF EVERYTHING ... NO EXTRA CHARGE! ORDER NOW!