Results-Only Consulting Makes Your Practice Better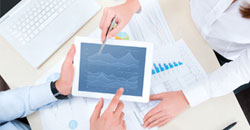 Do you want to have the premier practice in your community? Do you need a facilitator to get your plans implemented? Frankly, we create our learning resources because we can't work personally with every practice that wants to work with us. If, however, you share the "Office Magic 'It's-All-About-the-Patient'" philosophy... If you're already good but want to be better... If you want to create a magical practice that is the envy of other dentists, the place every patient wants to call his or her dental home, we should talk...
You May Qualify to Have Us Serve As Your "Accountability Partners."
What does having an Accountability Partner mean to you? It means you get things done faster, a whole lot more efficiently, and with higher quality, because you'll have a top expert following up with you to make sure things get done. Our pledge is to partner with you and your staff to take your practice to the next level of success and profitability through in-office Performance Consulting.
We introduce systems into your practice that will define success and document processes for all aspects of the business of dentistry. Our systems empower your staff with the tools they need to make a clear difference in your practice. Best of all, these systems transcend any single employee's tenure. You're building a practice that's built to last. The result is improved performance at every level in the practice.
Simon Rosenberg of New York City wrote this:
"When you came to the office ... Magic happened! Comparing 'Pre-Ginny Hegarty' and 'Post-Ginny Hegarty,' we are up more than 35% in both hourly and monthly production and collection. This increase has paid for your 6-month consulting fee in just 6 weeks!"
The Right Consultant Will Make All the Difference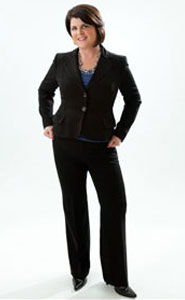 There are plenty of good consultants out there, and plenty who aren't so good. You know what you get with Office Magic -- real world, proven, patient-positive tools and techniques that simply work, over and over and over again. We've worked with every type of practice in every type of area.
Our Director of Consulting Ginny Hegarty is the best there is, hands-down, case-closed. Ginny worked with a large solo practice to slash overhead by 28%? Impressive? Certainly, when you consider that profitability more than doubled. The accounts receivable virtually disappeared. Once unable to meet payroll on a regular basis, this practice is now a thriving fee-for-service practice.
Ginny guided a well-established general practice to increase production and collection by 70% in one year, while at the same time reducing their accounts receivable by 65% over a six-month period. The result was 50% growth in two years.
A struggling solo practice was able to triple profitability in less than one year. Ginny accomplished this by restructuring the practice recare system along with reorganizing the administrative staff and establishing clear and measurable goals for the practice.
Our client Dr. Rich DeForno wrote ...
"I'm amazed at your ability not only to see the 'Big Picture' of what needs to get done, but by the way you're able to gain the confidence and respect of so many different types of people. You're at your best when you're problem solving, creating solutions and organizing an orderly plan to implement new ideas. You make things happen, and for that, I am forever appreciative."
Staff issues threatened to derail a group practice from their goals. A strategic planning process got them back on track. Together with eleven staff members and three doctors a successful team was created by highlighting common ground and shared goals. With our guidance, they designed strategies for their future success and implemented the action plans to be sure they systematically achieve their goals.
A well-established, two-doctor practice successfully reorganized their administrative department and converted to a state-of-the-art computer system under our direction with minimal disruption to their schedules and their good humor. The administrative department was restructured to establish clear responsibility and accountability for each team member. Monitors were introduced that provide the doctors with a one-page comprehensive snapshot of the practice performance each month. The practice actually increased production by 15% and collection by 21% during the conversion process. The business team understands their unique role in the success of the practice and the future looks very bright for continued growth and success.
We Create a Plan That's Right for You:
Focused Engagement directed to a major area of concern for a period of 90 days
Advanced Engagement concentrating on two to three practice issues over 6 months
Comprehensive Engagement involves all business systems and staff development to improve business performance on all levels over a period of 12 months
We also conduct Single-Day Seminars and Multiple-Day Practice Retreats.
A Practice Assessment & Action Plan is a part of all engagements.
We know the value of regular, preventive care for our patients and ourselves. When is the last time your business had diagnostic and preventive care? Liken it to a comprehensive evaluation and treatment plan; a Practice Assessment will provide you with a detailed analysis of your practice's present performance levels and areas of need. The Action Plan is your blueprint for future success.
Here's what client, Dr. Steve Goldberg of Augusta, Georgia had to say:
"Our relationship has had a major impact on me. Your assessment hit the nail on the head. All the stuff I knew about and couldn't admit, and everything I never even saw. You have helped me immensely and given me good direction. I definitely see improvement from where we were just 3 months ago; it's night and day."
Comprehensive Performance Consulting Builds Upon Office Magic Resources and Addresses the Following Areas:
Strategic Planning, Goal Setting, and Action Planning for Success
Marketing Toolkit Design (image creation including business cards, appointment cards, gift cards, referral cards, stationery, practice brochures, and advertising campaign coordination)
Administrative Organization
Profitability Review & Fee Analysis
Case Presentation and Acceptance
Appointment Scheduling Effectiveness
Continuing Care and Patient Retention
Financial Guidelines and Management
Accounts Receivable and Insurance Control
Creating and Implementing Job Descriptions
Hiring and Personnel Policy Program
Teamwork Assessment, Behavioral Profiles and Workshops
Staff Development and On-Site Continuing Education Programs
Administrative Staff Training
If you're not serious, let's not waste our time or yours. Some people talk about their daily frustrations... and talk about them and talk about them. Don't call us until you're ready to take action.
If you think you may qualify for our Performance Consulting and wish to schedule a complimentary phone consultation about your unique concerns, call Ginny directly at (610) 873-8404 or e-mail ginny@ginnyhegarty.com