Pat brings his own laptop computer and projector.
He does not use any slide projectors and he does not use a podium.
Pat requests:
1 microphone (wireless hand-held if available).
1 screen.
Sound system connection to laptop ("Stereo Mini to dual RCA audio cable").
1 extension cord and power strip.
2 separate tables to hold equipment (each any size from 4' to 6').
1 chair (a tall stool if available).
Note: The projector that Pat carries is an ultra-portable, and is not ideal for very large rooms. Pat always appreciates a house projector when one is available.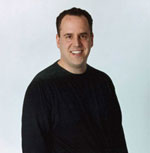 It's not just a seminar; it's an experience!

Pat speaks on most management topics. Recent titles include...
Secrets of Practice Greatness | The New Rules of Practice Management Practice Mastery Academy | Colossal Case Acceptance The Statementless Practice | Magical Customer Service Million Dollar Verbal Skills | Leadership in One Lesson


Call Office Magic at (302) 229-9520